An Athlete's Quick Guide to Breast Augmentation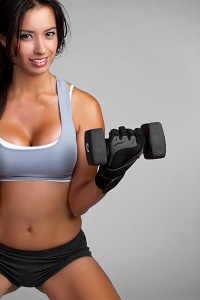 The world of athletics isn't a man's world, and there are plenty of fierce, fit women who hold their own when it comes to staying strong and active. However, many athletic women are unhappy with the appearances of their breasts, and there's no way to address cup size in the gym.
[pullquote]    Some may think that breast implants would simply get in the way of an active lifestyle, but that's just not the case.[/pullquote]
Here's a quick guide to how breast implants can enhance your silhouette without getting in your way.
How Fitness Can Affect the Breasts
Unfortunately, when your body burns fat, you don't get to choose where that fat will come from. Many women find that as they get in better shape and lose excess body fat, they lose breast volume. There are many advantages to being fit, including better cardiovascular health and looking better in skinny jeans, but getting smaller breasts can be an unintended consequence. Luckily, breast augmentation can restore lost breast volume and beautifully enhance your slim, toned physique.
Be Conservative with Implant Size
Before getting breast implants, carefully consider your lifestyle and how your new breasts will fit into the activities you enjoy. Many athletic women find that small to moderate-sized implants are the best choice because they deliver sexier curves without getting in the way of their favorite cross training routines or yoga poses. Implant size is also very important for women who enjoy high-impact activities, such as running. The "bounce effect" is inevitable to some degree with breasts but only gets more extreme with larger implants.