4 Tips for a More Comfortable Breast Augmentation Recovery
Updated for 2019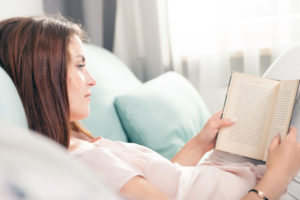 Prepping for your breast augmentation recovery in advance is one of the best ways to ensure your comfort and a speedier healing process. The more you can do ahead of time, the less you'll have to worry about after your procedure. And the less you have to worry, the more you can relax. Keep these four tips in mind when preparing for your post-op staycation.
1. Create a Relaxing Atmosphere
Before surgery, turn the area that you plan to do most of your recovering into a calm, clean and stress-free space. If this is your bedroom, do laundry, clean your bedding and get rid of those dust bunnies so that you don't feel the need to be doing anything besides resting after your breast augmentation.
2. Set Up a Recovery Station
Get yourself ready by placing all of the essentials within easy reach. Stock up on bottled water, tissues, lip balm, your phone charger and anything else you might need on hand. That way, you don't have to worry about all these little things as soon as you come home.
3. Secure Child (and Pet) Care
Although it can be tempting to want to take care of everybody as usual, it's crucial that you let another responsible adult take the reins during your breast augmentation recovery to ensure you get the best results. Make sure you have a caretaker lined up for kids or pets so you won't be tempted to lift anything (or anyone!) until your plastic surgeon gives you the okay.
4. Get Comfortable with Bendy Straws and Wedge Pillows
Finally, make sure you have all of life's little comforts, including plenty of plush pillows to prop yourself up on, blankets and even bendy straws. Armed with these items, you should be able to sit back, relax and recover.