What Can You Do to Minimize a Tummy Tuck Scar?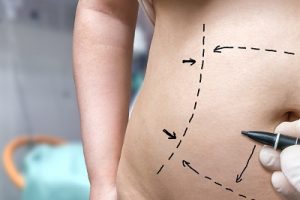 Whether you've had children, reached a major weight loss goal or are unhappy with sagging skin in your abdominal area for another reason, a tummy tuck can help you to get the tighter and more toned look you want.
While there's no way to avoid having a visible scar from your tummy tuck or to make it go away completely, there are a few things you can to do minimize its appearance.
1. Work with a Board-Certified Plastic Surgeon
When choosing a plastic surgeon for your tummy tuck, make sure he or she is board-certified and has plenty of experience performing this type of body contouring procedure. With the right surgical skill and finesse, tummy tuck scars can be very smooth and well-hidden.
On the other hand, working with an inexperienced plastic surgeon can not only lead to complications but may also result in a poorly hidden and poorly planned scar.
[pullquote]Be wary of plastic surgeons offering too-good-to-be-true deals; the quality of your results could suffer.[/pullquote]
2. Bring Your Bikini to Your Consultation
During your consultation, you should discuss the specific placement of your tummy tuck incision with your plastic surgeon. It can be helpful to bring in your swimsuit as a reference point to make sure your scar will be hidden when you hit the beach.
A lower, flatter scar, for instance, will likely be a better option if you typically wear a low-cut bikini, whereas a higher, more rounded incision might be best if you wear a one-piece or higher bottoms.
3. Avoid Sun Exposure
The sun can negatively affect the way your scar heals, so make sure you cover it up and wear plenty of sunscreen when spending time in the sun during your recovery and up to a year afterwards.