3 Plastic Surgery Procedures to Feel Confident about Your Bikini Body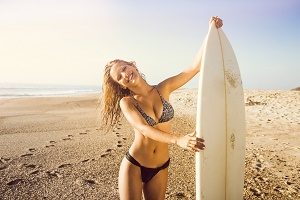 If the thought of baring all in your bikini this summer fills you more with dread than anticipation, you're not alone. Maybe you're self-conscious about small breasts, troubled by a saggy belly or disheartened by stubborn fat that simply refuses to be defeated by your dedicated diet and exercise efforts. Your bikini season confidence could be enhanced by breast augmentation, tummy tuck, liposuction or other plastic surgery procedures.
1. Breast Augmentation
When your main bikini season concern is not quite filling out your bikini top as well as you'd like to, breast augmentation may be the procedure for you. Commonly used to add volume to naturally small breasts, as well as those where volume has been lost because of pregnancy or weight loss, breast implants can help you become more confident on or off the beach.
2. Tummy Tuck
Maybe you're not worried about how your breasts will look on the beach, but more about excess skin and weakened abdominal muscles leaving you with a pooch you'd rather not reveal. A board-certified plastic surgeon may be able to fix your belly bulge with a tummy tuck, providing you're at or near an ideal weight and don't smoke.
[pullquote]There's no denying that pregnancy and childbirth are magical, but they can also leave their mark on your figure.[/pullquote]
3. Liposuction
If you've spent time and effort crafting your physique through diet and exercise only to be left with some stubborn pockets of fat, liposuction could add the finishing touch. Depending on your personal circumstances, you may benefit even further from combining liposuction with tummy tuck or breast augmentation in time for bikini season. As always, you should work with a board-certified plastic surgeon who focuses on the procedures you have in mind.