3 Lesser-Known Benefits of a Tummy Tuck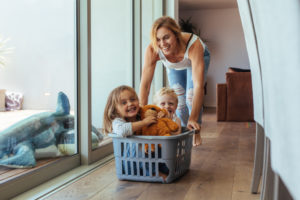 Updated for 2019
Many people may first think of the variety of cosmetic perks that a tummy tuck, also known as an abdominoplasty, can offer but the procedure may come along with some added medical benefits as well.
If you experience any of these three concerns, a tummy tuck could help.
1. Improve Posture
[pullquote]Poor posture due to a weakened abdominal wall can lead to specific types of back pain.[/pullquote]
Those seeking abdominoplasty typically have some level of muscle laxity that can be corrected through their tummy tuck procedure.
Once weak abdominal muscles are tightened, many people often notice a significant improvement in posture due to the added spinal support that stronger muscles can provide.
2. Reduce Back Pain
Because your abdominal muscles and back work together to perform a variety of movements and even heavy lifting, muscle laxity can also cause your back to become strained and may even lead to further complications.
A tummy tuck tightens these muscles, which can alleviate various types of back pain associated with compromised posture.
3. Correct Ventral Hernias
A ventral hernia can be a common occurrence when the abdominal wall is weakened. When a ventral hernia happens, the inner abdominal tissue or intestine bulges out through the abdominal wall. These are commonly found near previous surgeries sites like those of cesarean sections and appendectomies, above the navel or other areas where the abdomen wall has been compromised.
Often, hernia repair can be safely and efficiently included in a tummy tuck surgery. Once a ventral hernia occurs, the risk of reoccurrence is higher. A tummy tuck can actually help lower the risk of a ventral hernia happening again by tightening and strengthening the abdominal wall.